The Book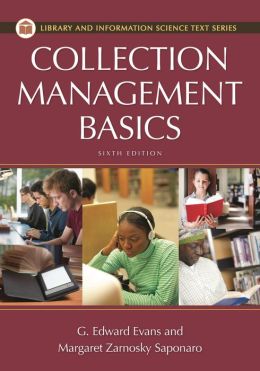 Barnes & Noble
Collection Management Basics
(Sixth Edition)
G. Edward Evans
Margaret Zarnosky Saponaro
The Review
For the most part, the readings in this text were assigned in chronological order, so my professor did not feel that the issues present in the Gregory text were founded in this book. Still, this text was relegated as a supplement to our readings from the other textbook, which was the primary text for the class.
The Collection Management Basics has the look and feel of a traditional textbook. It also reads like one, making for dense chapters that approach 30 pages each. As such, this textbook was very informative but not the most pleasant reading material.
The Citation
Evans, G. E., Saponaro, M. Z.
Collection management basics. 6th ed.
Denver, Colorado: Libraries Unlimited.