** I am currently taking a Young Adult literature course and I will be reading and reviewing several materials using a new format. This review follows a template given to me by my professor.**
---
Publication Information
| | |
| --- | --- |
| Name: Christopher Jimenez | Media Format: Audio (Audio-book) |
| Title: Bud, Not Buddy | Genre: Orphan, Music, Depression Era, Segregation, |
| Author: Christopher Paul Curtis | Selection Source: 2000 Newbery Medal Winner |
| Publisher: Listening Library / Delacorte | Recommended Audience Age: 12-18 |
| | Reading Recommendation: 5 out of 5 |
| | Curriculum Connections: Literature, History, Economics, Segregation, Music |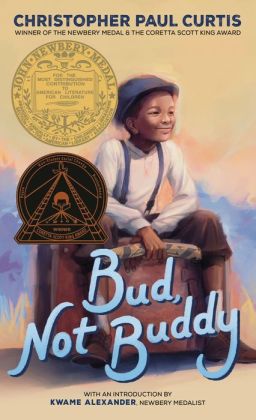 Review

Bud Caldwell—he will readily remind you that his name is Bud, not Buddy—is a young man with a lot of spunk. His main ambition is to find his long-lost father, a big band leader who goes by the name of Herman E. Calloway. After a few mishaps at the orphanage and foster home, Bud runs away, headed for Grand Rapids, MI., where his mother left clues to find his kin.

This novel has earned the following distinctions:
Evaluation
This title is exceptionally written and wildly entertaining. I was enthralled with the narrative and with the way Bud Caldwell perceived his world. Other notable aspects of this novel include it's portrayal of orphaned children, segregation and depression-era lifestyle. One can see Bud's character develop and grow along the journey from Flint to Grand Rapids.