** I am currently taking a Young Adult literature course and I will be reading and reviewing several materials using a new format. This review follows a template given to me by my professor.**
---
Publication Information
| | |
| --- | --- |
| Name: Christopher Jimenez | Media Format: Video |
| Title: What's Eating Gilbert Grape | Genre: Realistic fiction |
| Author: Peter Hedges | Selection Source: Publishers Weekly |
| Publisher: Paramount / Simon & Schuster | Recommended Audience Age: 12-Adult |
| | Reading Recommendation: 3 out of 5 |
| | Curriculum Connections: Health and Personal Fitness, Psychology |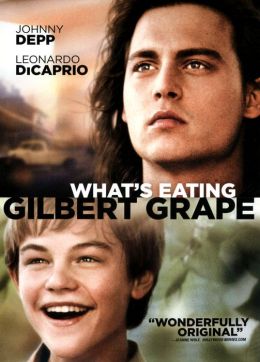 Review

Gilbert Grape is bothered by everything in his life; his town, his family and his friends. He is brother to a special needs child, son to a morbidly obese, lethargic mother and fatherless due to suicide. He and his sisters try to hold the family together despite their own internal turmoil.

When a visitor's car breaks down in the small, rural town of Endora, IA. (population 1,091) Gilbert is forced to inspect his own feelings and come to grips with the complexity of his emotions. His relationship with Becky, the visitor, serves as a catalyst for Gilbert's personality transformation. As this relationship blossoms, his interaction with figures in the town also evolves.
Evaluation
This title, though written as a grotesque southern tragedy, connects well with the Young Adult audience. Gilbert is trying to sort out his emotions and find his own voice. At one point in the movie, Becky asks Gilbert "What do you want?" The transition from Chilhood to full Adulthood is exactly where YA readers find themselves. The emotions that course through their psyches are similar to what Gilbert Grape experiences. He experiences family shame, the burden of responsibility and sexual tensions.
Self expression as it relates to grief is another theme in this movie. Gilbert is dealing with his father's suicide, his brother's handicap and his mother's depression. These are things that happen in life and must be dealt with before they contribute to a psychological disorder. Discussions may spring up in the classroom setting that revolve around handling these and other issues in a healthy, productive manner.