** I am currently taking a Young Adult literature course and I will be reading and reviewing several materials using a new format. This review follows a template given to me by my professor.**
---
Publication Information
| | |
| --- | --- |
| Name: Christopher Jimenez | Media Format: Book (eBook) |
| Title: The Invention of Hugo Cabret | Genre: Fiction, Graphic novel, Children's literature, Mystery, Historical fiction |
| Author: Brian Selznick | Selection Source: 2008 Caldecott Winner |
| Publisher: Scholastic, Inc. | Recommended Audience Age: 8-12 |
| | Reading Recommendation: 3 out of 5 |
| | Curriculum Connections: Literature, Leisure, Filmography, Technology, History |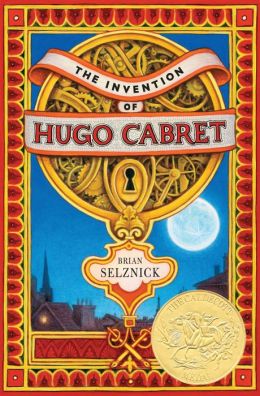 Review

Hugo Cabret is an orphan, a thief, a magician, a prodigy and alone. He is consumed by his late father's desire to repair a curious automaton that is poised with a pen. Hugo is convinced that the mechanical man is programmed to deliver a personal message to him, perhaps from his father.

Hugo embarks on an adventure with the George

Méliès family as he struggles to maintain his anonymous lifestyle in a Paris train station. The narrative, and its characters, are clearly influenced by love of the cinema. As the story unfolds, we find that things are not always as they appear.




This novel has achieved the following awards:
Evaluation
This is another novel that features an orphaned child who desperately tries to avoid the orphanage. Hugo Cabret does all he can to remain undetected by adults who may inquire about his living situation. His salvation turns out to be his love of technology and ability to build. Through his devotion to his father's project, he is able to establish a relationship with the George
Méliès family, who ends up vouching for him.
A major influence in this novel is the cinema. The magic on the silver screen is evident in the characters, the language, (audiobook) the production of background sounds and (the monograph) the illustrations. This book presents a well-rounded experience for the reader.